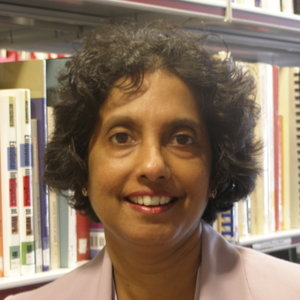 Anoja FERNANDO (United Kingdom of Great Britain and Northern Ireland)
Candidacy
| | |
| --- | --- |
| Position | Research Library Manager/Lead |
| Organisation | Department for Work and Pensions Research Library |
Motivation statement
My commitment to IFLA Global Vision, strategic leadership experience and networking/influencing/coaching achievements motivates me to fulfil the role of Professional Division Committee Chair.
Working for United Kingdom (UK) Government's Department for Work and Pensions, I lead Research Librarians supporting confidential evidence-based policy making in a Ministry of 80,000 staff; upholding GDPR, delivering social policy to citizens.
Between 2013-2021, I was Chair (2015-2019) & Secretary IFLA Government Libraries Section (GLS), encouraging/coaching Standing Committee (SC) members to fulfil official roles. As GLS Chair, between WLIC 2016-2018, I supported/collaborated with IFLA Parliamentary Libraries, Law Libraries and Government Information and Official Publications Sections' sessions.
Organising satellite meetings at:
• The Bundestag, Berlin (WLIC 2017 Wroclaw)
• Kuala Lumpur (WLIC 2018)
• Prime Minister's Office, Rome (WLIC 2019 Athens);
I influenced international partnerships with Government and Parliamentary librarians in host countries; increasing institutional membership of GLS SC and IFLA.
My term as Chair culminated with delivering IFLA mid-year conference - December 2019 for Government Libraries Section in Westminster; with Librarians representing five continents participating. Key achievements:
• Conference theme Informed Parliaments, Engaged Citizens, Effective Government aligned IFLA Strategy 2019-2024 1.1; 1.2; 3.1 to UN SDG 16.
• I brought together Senior Official sponsors from United Kingdom Government, Parliament and Chartered Institute for Library and Information Professionals.
• Highlighting IFLA & Librarians as global forces for impactful delivery of equal access to information; speakers and conference delegates promoted IFLA & Librarians' Professional expertise to UK Senior decision-makers.
• IFLA capacity to bring Government, Parliament, Law and Official Publications Librarians together from several countries was acknowledged with the host UK Government Ministry becoming an IFLA Institutional Member in 2020.
I am currently leading the project to revise IFLA Guidelines for Government Libraries by including global examples.
I led UK Government Librarians in a project; renovating a Tsunami affected library in Sri Lanka, raising £10,000.